Posted on | January 31, 2010 | 1 Comment
Flick's Rating: 3.5 out of 5
1/2
This movie is about Manny, Diego, and Sid who have lived during the ice age for a long time, but now it is melting. They set off on a daring adventure. On the way, they meet Elie and two possums (Crash and Eddie). Together the band goes to warn the other animals about the meltdown. They also fight sea creatures.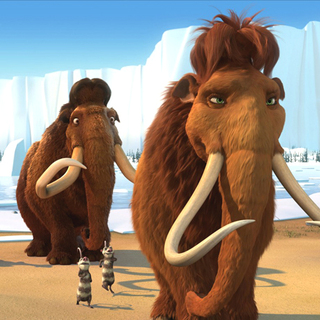 This is the sequel to Ice Age. In every Ice Age movie there is a new good guy and a different bad guy.
My favorite character is Manny, because he leads the good guy team.
My favorite part is when Manny, Sid, Diego, Ellie and the two possums go to fight the sea creatures because it is climactic and adventurous.
Flick's Rating:
Age Appropriate for: 5+
Bad and Mean language (like saying mean things about each other). Silly actions
Release Date: 2006
Director: Carlos Saldanha
Writers: Gerry Swallow (writer) and Peter Gaulke (screenplay)
Produced by Blue Sky Studios for 20th Century Fox
Genre: Animation | Adventure | Comedy | Family
Website: IceAgeMovie.com was redirected to Nick Jr.
There is a Movie site in the UK: http://www.iceage2.co.uk/
Actors:
Ray Romano
Manny (voice)
John Leguizamo
Sid (voice)
Denis Leary
Diego (voice)
Seann William Scott
Crash (voice)
Josh Peck
Eddie (voice)
Queen Latifah
Ellie (voice)
Comments